In his books, Paul specializes in writing about complex economic issues and institutions using journalistic narratives and behind-the-scenes reporting, with the aim of making the material illuminating for both expert and non-expert readers. His books are especially popular with professors and students; a sample list of syllabi for college and university courses in which the books were used can be found below.
     PUBLICATION: SEPTEMBER 10, 2019
LISTEN TO MARTIN WOLF'S "ECONOMICS READING LIST" PODCAST FOR THE FINANCIAL TIMES
An excerpt:
"The most important work [on trade] is Paul Blustein's. He's done the work we need on the origins of, history of, and current state of the US-China trade relationship. He's done, as he always does, a wonderful journalistic job of telling you what's behind this, and doing analysis of how it happened...a very important book on a very important subject."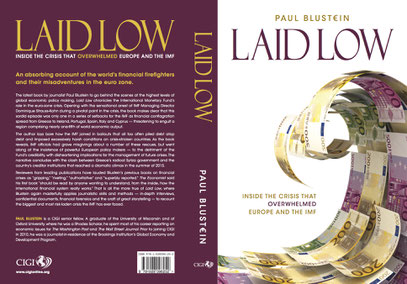 "Using confidential documents, interviews and financial forensics, Mr. Blustein reveals — in often unflattering detail — the efforts of the world's financial leaders as they scramble to repair the badly-broken global economy." -- The Wall Street Journal
"The new revelations based on confidential documents alone are well worth the price of entry, although there is much more for the specialist and general reader alike. Highly recommended."
-- Barry Eichengreen, Professor, University of California, Berkeley
"Blustein has thoroughly mastered the craft of breathing life into intrinsically dull material with compelling thematic narrative and delicious character studies. . . .A shimmering, essential read for those seeking a deeper and more nuanced perspective on the modern commerce of nations."  --The Washington Post FULL REVIEW
"A richly nuanced analysis . . . . Blustein's even-handed mastery of his subject does justice to every important perspective, not just those of advanced economies. . . .His thoroughly reported account will be must reading for those who wonder how and why global trade policy is made."       --USA Today FULL REVIEW
"An engrossing inside account. . . .The arguments surrounding Argentina's collapse are complex and technical. It is Mr. Blustein's considerable achievement to have fashioned them into such a page-turner."
--The Economist FULL REVIEW
"The book could have been titled 'CSI Buenos Aires' because what Blustein expertly investigates is undoubtedly an economic crime scene." --The Washington Post  FULL REVIEW
"The definitive account of what went horribly, horribly wrong in Argentina"--NPR's "Planet Money" FULL PROGRAM
"An absorbing tale of hope, folly, and betrayal [and] an authoritative account of the nation's unraveling" --The Los Angeles Times FULL REVIEW
"Gripping, often frightening . . . . should be read by anyone wanting to understand, from the inside, how the international financial system really works." --The Economist FULL REVIEW
"A superbly reported and skillfully woven story documenting an incredible number of costly and dangerous IMF mistakes." --The Wall Street Journal FULL REVIEW
READ THE REVIEW IN NATIONAL JOURNAL
READ THE REVIEW IN FOREIGN AFFAIRS